Accessible Mouse
Hardware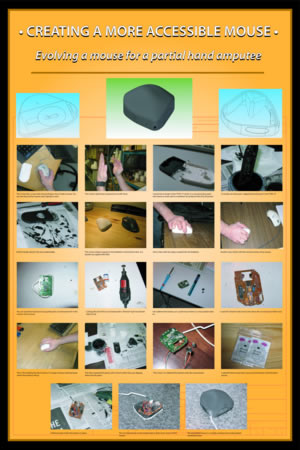 Technologies Used
Solid Edge, Z Corporation Spectrum Z510 3D Printer
Links
Features

Mouse buttons designed to be clicked by the thumb and index finger.
Unlike normal mice, the fingers doing the clicking also provide enough support to accurately move the mouse around.
During high school, I had access to a Spectrum Z510 3D printer as part of the drafting and design classes. In my final year, I had the option to participate in a district scholarship competition. I elected to participate and take full advantage of the ability to rapidly prototype physical objects by designing a mouse that would be accessible for a friend of mine with a partial hand amputation.
During the course of the project, I learned a lot about how to design something that you intend people to interact with. Understanding how people hold a mouse, and how disabled people end up adapting to their situation was a key factor in successfully completing the project.
I also decided to take things a step further than necessary and add the PCB from an old mouse into my prototype shape in order to create a mostly-working prototype.
As part of the project, I spent a day at the local mall presenting my project to the public, as well as to the judges who came by at random points throughout the day.